Welcome!
Bullterriers came rather recently into my kennel although I have followed them for many years. It's one of the breed I am an approved judge on and I have also written the comments to the breed standard for the Swedish kennelclub.
In 2009, the famous Bodil's kennel closed down after the owner Bodil Granberg deceased. I adopted two of her bullterriers, two littermates 1,5 years old at the time. The female, Bodils Mantella, is currently having a litter.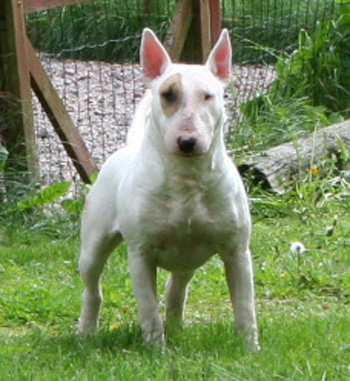 Bodils Mantella
Breeder Bodil Granberg. Owner Rollick's.

Kennel Rollick's have been active for nearly 30 years and has during the last 15 years been the leading Kerry Blue kennel within Sweden.
We are very proud of Am & Can Ch Rollick's Riverdance, the Top Winning Kerry Blue in USA 2006. Her son, Ch Symphonie's Be My Valentine, was won numerous BIG's and BIS's during his time at Rollick's and finished as No 3 Top Dog all breeds in Sweden 2007.
We are also breeding Shiba, Bullterriers & Irish Softcoated Wheatenterrier.

Copyright © 2007 Charlotta Mellin. All Rights Reserved